Watch, read and hear people's stories below on how they were impacted by different kinds of bleeding,  how TXA has helped and could continue to save lives, and their involvement in clinical trial research
The evidence provided on TXACentral came from over 70,000 men and women who suffered severe bleeding and agreed, or their families gave permission, to be part of a trial.


We thank them for their selfless contribution.


To improve the lives of patients requires the involvement of a multitude of people that ensure these clinical trials: ask the right questions, are designed and conducted to the highest standard, the outcomes are relevant to people, and the results benefit people everywhere.
Thousands of people including trialists, doctors, nurses, midwives, and administrators in over 50 countries worked together and completed these tranexamic acid (TXA) trials. Please see each trial website for the list of collaborators.
The trials were overseen by patient organisations, including:
Her Life Matters Documentary
Can we stop women bleeding to death in childbirth? Women across the world still can't get access to TXA so 100,000 mothers still bleed to death every year. The true killer of these women is inaction
Art for Maternal Health Awareness
Sculpture artist, Moira Purver was commissioned by the WOMAN trial to create this spectacular bronze statue, appropriately titled WOMAN, that depicts a mother on her knees holding her new baby in her arms just after giving birth.
Listen to Moira BBC interview here
Read Swanage & Warham article here
Nigerian doctors, midwives, patients and families share their experience of PPH and explain the heavy burden it weighs on the Nigerian population & health system
'Blood Clock' Art Installation
Every six minutes someone's mother bleeds to death due to PPH…
A Fathers Experience of PPH
"It had taken 3 or 4 minutes and all I knew was she was bleeding profusely and was in danger. I had no idea how serious it was, what they could do about it, what I should be doing, and whether she would come back…"
WOMAN Trial Findings Translated Into Maternal Health Policy Change
Life after suffering
a traumatic brain injury
Pam Foley suffered a TBI after falling off her bike and was asked to participate in the CRASH-3 trial – watch her story
ABC Catalyst:
Tranexamic Acid
Hopes to cut deaths from serious injury as global trial CRASH-2 shows a simple jab of TXA could save up to 100,000 lives a year. Watch ABC Catalyst cover a story on TXA for trauma patients
Eilidh Died in a Road Traffic Crash: Her Story told by Sister Kate
World Day of Remembrance
for Road Traffic Victims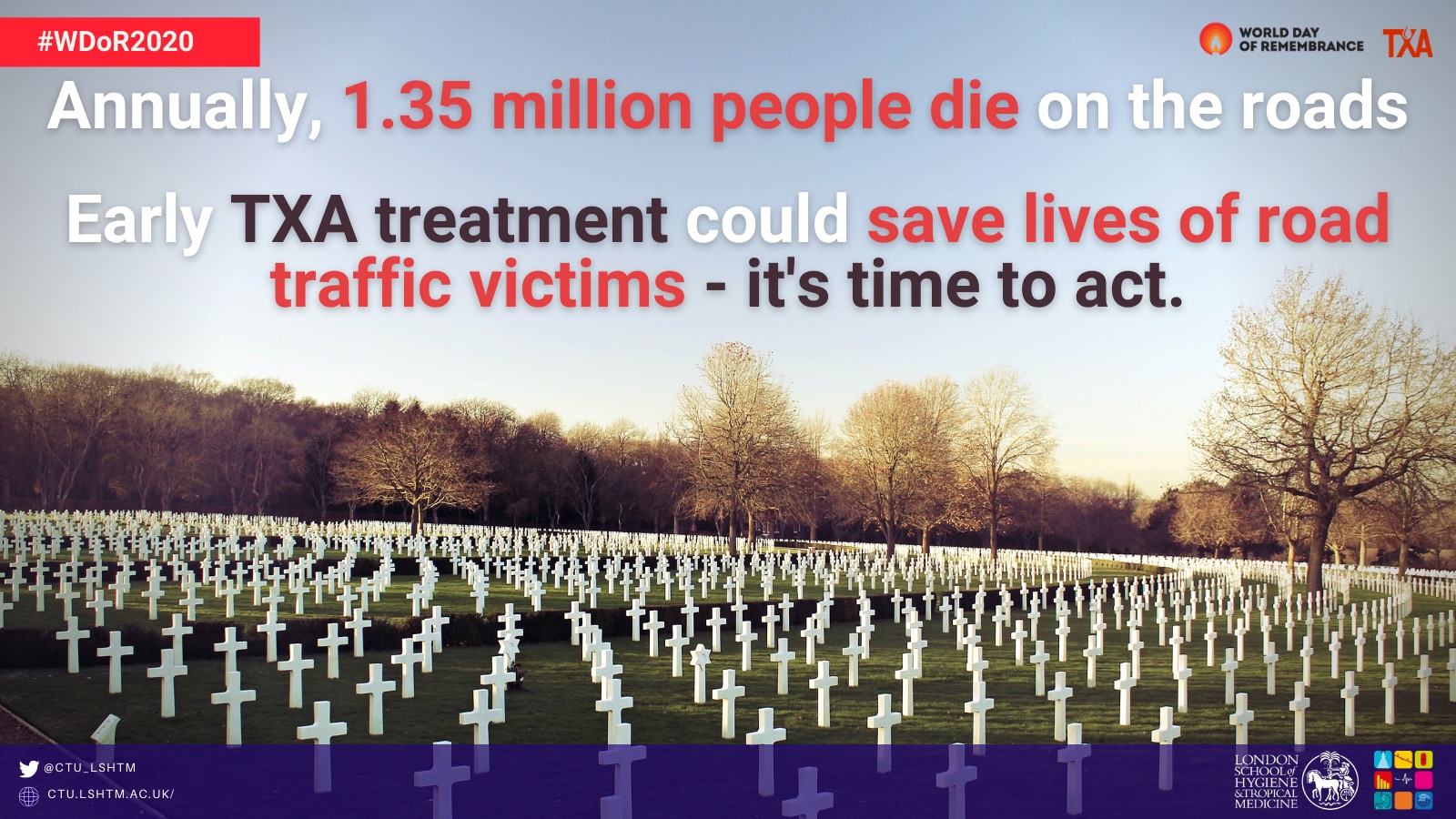 Every 24 seconds a person is killed on the roads. The bereaved families of the victims suffer long-lasting, often permanent, grief and loss – read the full story


TXA utilised by the
British Armed Forces
Watch Surgeon General of the British Armed Forces, Vice Admiral Philip Raffaelli, interviewed about the implementation of the CRASH-2 trial results in the British Military
Advanced Bleeding Care in Trauma: 'STOP the Bleeding' Campaign

The European "STOP the Bleeding Campaign" is an international initiative launched by the Task Force for Advanced Bleeding Care in Trauma with the aim to reduce morbidity and mortality associated with bleeding following traumatic injury